The app provides a color-coded status for each stock control message, as follows:

Red - The red color indicates that a stock control is either in progress or has been rejected by the administrative department using ULDRadar.

Orange -

The orange color indicates that you have completed your stock control for the given airline, and it is now

waiting for

the administrative department

to approve it,

using ULDRadar



Green - The green color indicates that the stock control message has been approved and sent, and no further action is needed.
As long as the stock control has not been approved it can be continually adjusted, otherwise a new stock control needs to be initiated.
Starting a new Stock Control
You can start a new stock control for any of the available airlines by clicking on the inspection button on the left of the screen, this will prompt you first, before beginning a new stock control. Once a new stock control has been started, every ULD that is currently registered as being in stock and used by that airline will be shown, as seen below: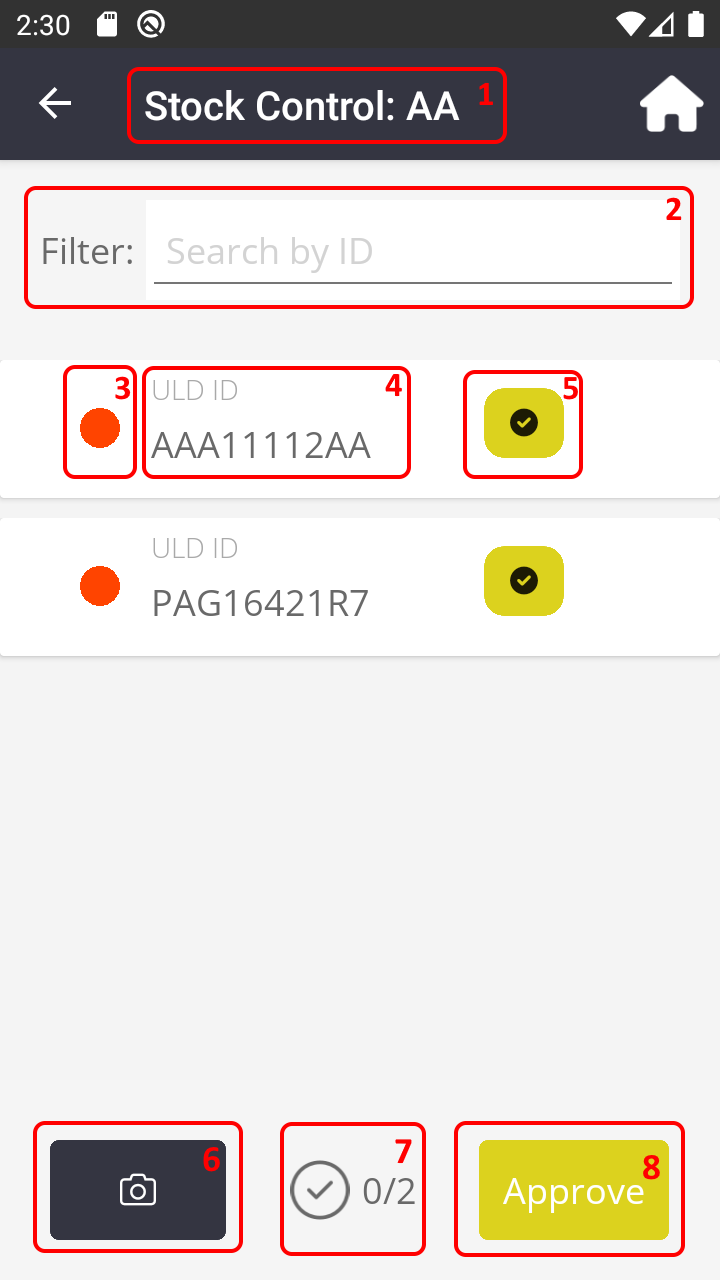 The following is an explanation of what each part is used for:
D

isplays which airline currently on being worked on for Stock Control.

A

filter to find specific ULDs, this filters the list of visible ULD's.



The status displays whether or not the ULD has been registered as being in stock, with red meaning that it has not been registered, and green meaning that it has.

The ULD ID.

A button to switch the status.

A button to scan ULD IDs, thereby switching the status.

Displays how many ULDs have been approved.

A button to approve the stock control.
The primary way to conduct stock control using the ULD Tracker app, is to scan each ULD on stock, which helps you find ULDs that have not been registered correctly, or not registered at all, and add them to the list immediately, or display which ULDs have not been found on among your stock.
If an ULD is, for one reason or another, not found in your stock, you can still approve the stock control, though this will update the missing ULDs status to missing, so you can handle that issue separately.